Aloha, a new brand that says hello to health and happiness offers so many healthy recipes like this yummy post! All of their products strive to keep your mind and body as healthy as possible by offering organic and gluten free solutions (loaded with
superfoods
)! If you want to see some of these recipes that are inspired by a natural lifestyle, check them out
here
.
There is always a natural ebb & flow in life. Today I was feeling hard on myself for where I am at with my fitness goals. The holidays put a big wedge in my routine and that is natural especially since I was away from my home for over 3 weeks. I had to take a step back and cut myself some slack today. The hard thing about competing in a fitness competition is that physically, its kind of all down hill from there. For me, competing in a bodybuilding competition was part of a single goal, it isn't going to become my life, my family is my life. In order to reach that goal I had to sacrifice certain things and there was a lot of give and take that had to happen. It was an amazing experience that taught me a tremendous amount about what I am capable of; and only the beginning of the amazing things I plan to accomplish in my life time.
On another note, keeping fit and staying active is harder for me in the winter months, I am sure I am not alone in the feeling. The days are shorter, its cold outside, it takes an extra 30-40 minutes to get anywhere between dressing everybody for the weather and the poor road conditions, and on top of all that physiologically our bodies naturally want to "hibernate" a little more and pack on a few extra pounds to keep us warm. In my limited experience I have found that the best way to make your body AND your mind happy is to work with your body, not against it! So, here are my two favorite tips for staying happy and healthy in the winter.
Get some extra ZZZ's in the winter months:
the body naturally goes into a kind of hibernation mode in the winter months, so the hours of sleep you get before midnight are the most important. Try to get to bed around 9:30 pm; easier said then done, I know, and I am not a great example of this but I am working on it!
Eat Seasonally:
Here
is a great site about eating seasonally, go check it out and download their awesome chart; I have it printed and taped to the inside of one of my kitchen cupboards. Eating seasonally is optimal for nutrition, but it is also better for body function in the winter months. Eating entirely seasonally might not be realistic, but try choosing your food wisely. Try adding "warming" foods such as, kale, brussels sprouts, apples, coconut, and cinnamon to your diet (if you want to listen to more about the idea of cooling vs. warming foods
click here
and for a more extensive list of warming foods
click here
).
Update
: So, the first link about eating seasonally is from the UK. Although I am sure it still offers some good information, upon further investigation it may not be the best and most accurate source for those of us living in the North America. Those of us who live in Canada, are presented with an even harder challenge, because nothing is seasonal in Canada in the months of December - April except Christmas trees. So, what do we do? I am still figuring this out as well, but I think a good plan of action is to talk to your grocery store and find out where there produce comes from, try and buy food that hasn't been stored for several month or is local to the area it has been transported from. Here are a couple more link that I found very helpful!
Here
and
Here
.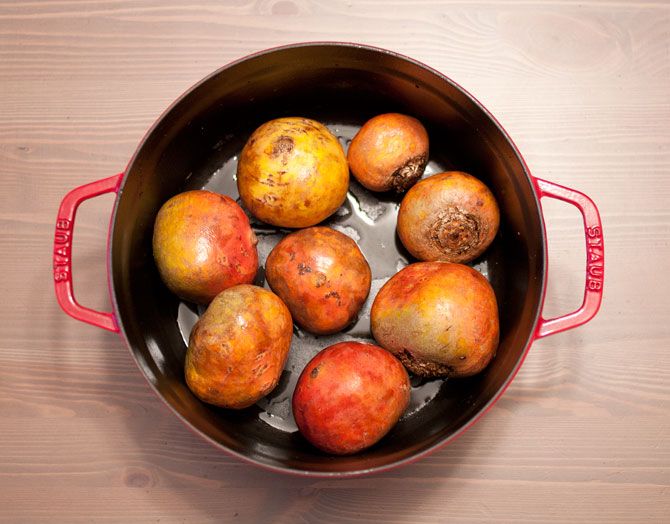 Here is a recipe for one of my favorite salads, It isn't perfectly seasonal but I feel it is a nice dish for late fall months and winter.
ROASTED HAZELNUT & GOLDEN BEET SALAD
Ingredients:
- 6-8 Golden Beets
- approx 1/2 Hazelnuts
- 1 Grapefruit
- Olive Oil
- Cracked Pepper to taste
1. Roast the beets in a covered dish in the oven at 350 degrees for about 1 hour - 1.5 hours. (Check with a fork for tenderness)
2. Let the beets cool to room temperature. When I make this salad I roast the beets in the morning while I am cleaning and doing other odd things around the house and then just let them cool through the rest of the day until I am ready to prepare dinner.
3. Roast hazelnuts at 350 degrees for about 7 mins or until aromatic.
4. Chop up the nuts.
5. Slice grapefruit.
6. Slice Beets into into desired shape (I like mine in large thing coin like slices).
7. Place all ingredients together in a bowl and toss with a little olive oil and cracked pepper
8. Enjoy!
Tip: you can also make another variation of this same salad with dark red beets, oranges, and almonds.
This iPhone pic from another time I made this salad will have to do, because I forgot to photograph the salad before we devoured it!